Many of our feathered friends are molting. Molting can be a difficult thing if you have roosters in the mix. So, we have come to "Red's" rescue with a custom fit chicken saddle to protect her back while her feathers grow in.
For some reason the Rhode Island Red's have not been a favorite among the other chickens and too much of a favorite to the roosters, if you get my drift. They have to put up with being pecked on the roost at night by the other hens and literally have to run often during the day to stay away from the roosters.
This is my spin on a hen saddle, and I will be stitching up more for the other hens who are in the molting process as well. "Red" is the only one who has marks on her back from the roosters, so she was in dire need of this protection.
You have heard of Star Bellied Sneeches... now meet the Star Backed Chick!
Shared at: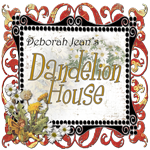 ~Lynnie